Chris Taylor Consulting is the brainchild of Chris Taylor, hence the clever name. With a multi-disciplinary background, and more than a decade of experience working with large and small companies worldwide, the idea was born. And from that little, baby idea, we continued to blossom. We motivate people like you, who are fueled by inspiration, to work towards a common goal. At Chris Taylor Consulting, we love what we do and look for clients with that same passion. We have high standards, and think you should too.

STATUS QUO NEEDS TO GO
We strive to keep our clients at the front of the wave. To get there, you have to be willing to take some chances. More than anything, the key is continuously testing and adjusting the sails. If you keep doing something because "it's the way you've always done it" or to diminish risk, it might be time to shake things up. The pursuit of something great includes calculated risk as part of the equation. Take a step out of your comfort zone – you might be surprised about what you learn and how you can apply it to situations in the future.
Good is the enemy of great.
WE ARE NOT AN AGENCY
We like agencies; in fact, we've worked alongside quite a few. They provide a valuable service, but what we provide is different. We believe passion is contagious, and collaboration is essential. If you wake up at 1:00AM with an idea that will revolutionize your business, give us a call. Yeah, you heard us. The internet is open 24/7/365 and so are we. We're not promising we'll answer at 1:00AM, but leave us a voicemail or something.
EACH CLIENT IS UNIQUE
It'd be so much easier to have a simple pricing chart. Trust us, we know. But the reality is each client we work with has specific needs. This is why our process focuses on six areas within three categories. We H.A.C together a strategy "taylor-ed" to each client's needs (see what we did right there?). All the areas we focus on will intersect in some way to work together. The first step is always SEO. If this area is not up-to-par, it will negatively affect every other portion of the business. Let us take the reins initially to build and/or improve your SEO strategy. Along the way, we'll continue to educate you until you feel fluent in the conversation.
CUSTOMER SERVICE
Innovation may come in the form of a new phone or an app but it starts with user experience and ends with customer service. These two things are integral for businesses to find long term success. This applies to us, as well as our clients, and is the foundation of how we approach all business. It's all part of the process. We treat our clients with the ultimate respect and hold them in the highest regard, with the expectation they'll do the same for their end user. This is the only way to create and maximize partnerships. As much as we love data, a great user experience should be top priority.
Ideas are a commodity.
Execution of them is not.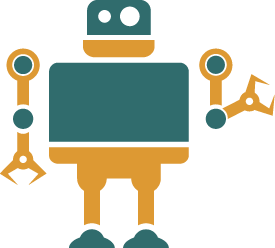 Web Crawler
Meet BOT-bot, our resident web crawler. The search algorithm can be a complex thing to wrap your head around, and BOT-bot gives us the ability to be a search engine. When you approach a website from this angle and ask the question, "if we were a search engine, what information would we want to see on a web page?", the game changes. We are, as humans (sorry BOT-bot), natural search engines.
BOT-bot sounds like Batman. Just kidding. It's more like a Speak & Spell.
BOT-bot loves Google Search…almost too much (Geez, BOT-bot, get a room!)
BOT-bot can cook minute rice in 56 seconds.
BOT-bot is the hero you deserve, but may not know you need. A silent guardian; a watchful protector.